Thousands of copywriters, content managers say that online grammar tools like Grammarly, ProwritingAid made the work easier by pointing out the mistakes, rectify and delivers high-quality content to the clients.
Do you want to make the content look error-free with good readability score? Then you have come to the right place.
Here in this article, I've discussed the Comparison of Grammarly Vs. ProwritingAid after doing intensive research work on grammar checking software, reviews, ratings, pros and cons, features, pricing plans and much more. Let us dive into the topic!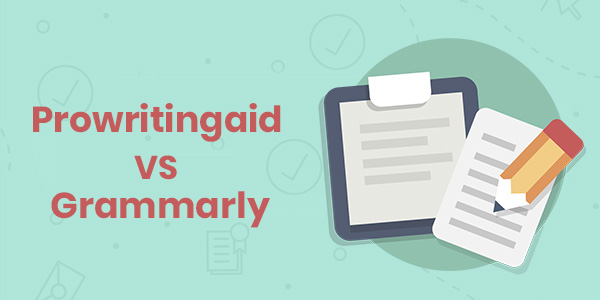 Comparison of ProwritingAid Vs Grammarly Software
Grammar tools are not only useful for students, but also for authors, content writers, and editors who focus on improving the productivity of business with the word choices. They need free space to imagine, put into a text format without committing mistakes (create quality content) and be liked by millions of visitors.
So, it's important to consider few parameters like accuracy, grammar checker, plagiarism checker, human proofreader, mobile-friendly, flexible options, personalized dictionary, cost of grammar tools, and technical support services before purchasing the right software for your business needs and deeds. Let us discuss each feature in detail now!
Whenever you wish to purchase any of the online grammar tools, look for accuracy, consistency and overall performance. This will assure that you are on the right path and checks for spelling mistakes, phrases, punctuations, conventions, clarity, conciseness, fluency, variety, wordy sentences, intricates, etc.by utilizing the large database that can store millions of words.
To check the accuracy, upload or text in the relevant column to know the metrics like readability score, unique sentences, reading and speaking time of a paragraph, and helps you in making the necessary changes.
Plagiarism Checker tool analyzes whether the content is unique or not over 16billion web-pages from its database. It best suits to check the academic content, novels, and research papers. In Grammarly, you will be given direct access to plagiarism checker once you purchase the premium services. And in ProwritingAid the prices are different i.e., $10 for 10 checks, $120 for 500 checks and $200 for 1000 checks.
Grammarly software offers professional human proofreaders to read and correct the documents right away. The only agenda of implementing human proofreads is to provide high-quality content without committing errors. Once you submit the document, you should also set the time (based on priority - 3/24hours) as per your needs and deeds. Alas, you don't find this human proofreading option in ProwritingAid application.
Compatibility- Windows, Android, IOS
The next important feature we're discussing is compatibility. By listening to this, you will be puzzled with the questions like Does Grammarly supports on Windows? Does ProwritingAid tool work well on Google Docs? Which is the best grammar checking software?
| | |
| --- | --- |
| Grammarly | Windows, Android, IOS, Mac |
| ProwritingAId | Windows, Mac |
You don't have to worry about that. Both the grammar tools work efficiently on online/offline sources like MS-Word, spreadsheets, to make the content look professional, error-free and improve user engagement on the websites (or blogs).
Grammarly supports Windows, Android, IOS, Mac, Web extensions and ProwritingAid as well. But ProwritingAid tool is not designed for mobile users, hence there is a missing of this application on Google, and the Apple store.
Grammar check is a wonderful feature that everyone looks for to correct the mistakes like spellings, repetitive words, verbs, pronouns, confusing words, conjunctions, overused passive voice, intricates, wordy sentences, punctuation, conventions, and modifiers in a sentence or lengthy paragraphs. It makes use of artificial intelligence to understand American/British English languages and grammatical rules to point out the errors.
| | | |
| --- | --- | --- |
| Spelling Mistakes | Repeat | Verbs |
| Difficult Phrases | Modifiers | Conventions |
| Intricates | Conjunctions | Sensitivity |
| Punctuations | Pronouns | Conciseness |
Mobile-Friendly Grammar Software
Nowadays, it's essential to look for grammar tools that support mobile devices - Android, IOS. In the given list of two software, only Grammarly is designed to work efficiently on smartphones. It made easy for the customers to access the tool from anywhere in the world i.e., when you are on vacation, holiday trips, attending business conferences, seminars on English language fluency, etc., While the ProwritingAid tool failed to incorporate such advanced features and is still lagging in this tech-world.
Improve your writing experience by adding a new phrase to the personalized dictionary. Once you save the word in the dictionary, you can use it whenever you want and also know the definition, verb forms and examples of usage.
When a particular word is underlined in red (although it's correct), you can save it from being treated as a mistake in the future. Further, it allows users to add multiple words to the dictionary at a time. To make it happen, log in to the Grammarly account, go to profile and then click on the personal dictionary. Remember, symbols other than the English language and multiple words cannot be added to the dictionary.
Both the tools Grammarly and ProwritingAid supports multiple languages like American, British, and Canada to match with your writing styles. Although it's not an issue, very soon they'll upgrade to more languages for enhanced user experience and the efficient workflow.
| | |
| --- | --- |
| Grammarly | ProwritingAid |
| $11.66 (Premium) | $60 (1-Year) |
| $15 (Business) | $210 (Lifetime) |
This is yet another crucial section one must look into before purchasing tools for your business - health, food blog, technology, tours and travels, education and affiliate marketing.
If you choose a Grammarly premium version, it costs around $11.66 per month (when billed annually). It includes the key aspects like AI (Artificial Intelligence), 256-bit AES, SSL & TLS encryption mechanism, and MS-Office add-in. While the business plan costs $15 and can be accessible for a team of 3-100 members. Whereas in ProwritingAid software, you will be charged $60 for a year and $210 for lifetime accessibility. While subscribing for the plans check ProWritingAid Discount Code to get discount on your plan.
On a comparison note, Grammarly free version is better than ProwritingAid. However, the paid version of ProwritingAid is much cheaper than the Grammarly tool. If you refer to these grammar tools to your friends and family members, you can cut down the costs by enabling discounts and offers. So, it's an individual's decision to pick the right online grammar checker tool for enhancing content on your websites.
Customer Support Services
Customer support services are a great way for clients/users to interact with the technical team and clarify the doubts regarding premium plans, cost, etc., Here both the ProwritingAid and Grammarly tools do not have phone calls or live chat option. But still, you can connect with the support team by submitting queries on emails. Compared to Grammarly, ProwritingAid customer responses aren't that bad.
Grammarly Vs ProwritingAid Pros and Cons
There are plenty of reasons for customers to invest in grammar software. You may also come across different online tools that kills your time, money and effort. So, it's important for an individual to know the pros and cons of grammar tools before purchasing the subscription plan for a year or lifetime.
Grammarly

Pros
Very simple and easy to use.
Best online grammar checking software.
Available as browser extensions and applications.
Human proofreader and plagiarism checker tools.
Compatible on mobiles, tablets, laptops and desktop computers.
Able to switch between American and Britain English writing styles.
Suitable for hobby bloggers, content managers, copywriters, and authors.
Works well on MS-Word, Excel, and other online streaming content sites.
Available as premium ($11.66/month) and business ($15/month) subscription pricing plans. Check Grammarly Coupons to get a discount on your subscription.
Checks for spellings, pronouns, wordy sentences, conjunctions, punctuation, passive voice, and difficult phrases.
Cons
It may not work efficiently on Google documents.
The free version comes with a finite number of features.
ProwritingAid
Pros
Analyzes thousands of words in a couple of seconds.
14-days free trial version to be familiar with ProwritingAid tool.
ProwritingAid web application charges $60/year and $210 for a lifetime.
Point outs the spelling, incorrect sentences, punctuation, and difficult words.
Best grammar tool for students, business people, and technical content writers.
Hassle-free experience while working with ProwritingAid on Google Docs and MS-Word.
Cons
Not a mobile-friendly application.
Operates bit slower than Grammarly tool.
User-interface design makes it look worthless.
Beginners face difficulty in handling the software.
Frequently Asked Questions
What exactly Grammarly is about?
Grammarly is one of the best proofreading software that helps to improve writing skills in day-to-day life. Moreover, it is suitable for students, bloggers, editors, and content writers who want to correct the grammatical mistakes and generate millions of visitors to the website (via. Content marketing).
How much does Grammarly premium costs?
In the basic plan, you will be charged zero to check the spelling and grammatical errors. If you wish to switch to the premium plan, it costs around $11.66 per month and $15 for the business plan.
Is Grammarly premium worth purchasing?
Of course yes! Because it loaded with plenty of features like a personalized dictionary, human proofreader, plagiarism checker and much more.
How does a Grammarly tool work?
Once you've downloaded the application, copy paste the content or enter manually in the text box. Within a few seconds, it displays the number of errors, and necessary changes to be done for improving the content quality. Further, it is available as a browser plug-in to match with different users who work on mobiles, and laptops.
What are the online grammar tools that work on smartphones?
Ginger, Reverso, and Grammarly feature Android or IOS based applications to support on smartphones. Compared to the desktop version, these are less productive and you may find difficulty in typing lengthy paragraphs (say a thousand words).
Is Grammarly a mobile-friendly application?
Yes. Grammarly has come with updated features to use on both Android and IOS devices.
Can I use Grammarly on multiple devices?
Nope. The premium plan is made available for the clients to use on up to five devices.
How to set up and use Grammarly web application?
To install the Grammarly web application, you need to have a desktop/laptop and an internet connection. Firstly, open the browser and then go to the app store. Type Grammarly in the search box and click on the "enter" button. It will display the results and to the top-right, there will be an "add to extension" button. Once you click on it, the file will be downloaded, and now login with your personal details to avail the services.
What is the cost of ProwritingAid premium services?
The ProwritingAid premium plan is available as $60 for 1 year, $90 for 2years, $120 for 3years, and $210 for lifetime accessibility. If you think you cannot afford such prices, then go with the free version that has limited features and functionalities.
Does ProwritingAid offer a refund policy?
No. ProwritingAid does not offer a money refund policy. However, you can access the 14-days free trial services by submitting the personal details like name, email id, phone number, business type, and website address.
Does ProwritingAid support different writing styles?
Yeah! ProwritingAid software supports American, British and Canadian writing formats so that the user does not face difficulty while editing the content.
List out the best online grammar checking tools in 2019?
Here is a quick list of online grammar tools that are trending in 2019. Have a close look,
Grammarly
ProwritingAid
Ginger
Hemingway App
White Smoke
After The Deadline
Reverso
Language Tool
Paper Rater
Online Correction Tool
Conclusion
Summing up, ProwritingAid and Grammarly are the wonderful tools that help students, bloggers, copywriters, and authors to avoid typos while working online. It builds a great engagement to the content using punctuations, catch-phrases, etc. and delays a little bit while checking for plagiarism.
As I'm into content writing, I feel like grammar tools are the key weapons that add impressions to my writing style. I've researched on different online grammar checking tools and found these two as the best. Hence the comparison.