Most of the times when you surf the internet, you may encounter that the website is not available or blocked. It means you are not allowed to view the content on restricted websites, blogs, images, and videos, etc.
One of the best ways to view the blocked content is by enabling the Proxy Servers. It gives full access to users from scratch to see online content. Further, it makes use of dedicated proxies, private proxies, and mobile proxies for the convenience of clients and develops the business worldwide.

It even makes you browse for shopping items without tracking data from the browsing history. Are you the one amongst those who are looking for the Proxy Services in 2019, then you have come to the right place.

To make things easy for you, we have compiled a list of top 10 proxy services by reviewing the products online and interacting with customers. Now, let us discuss each proxy provider in detail!
1. SmartProxy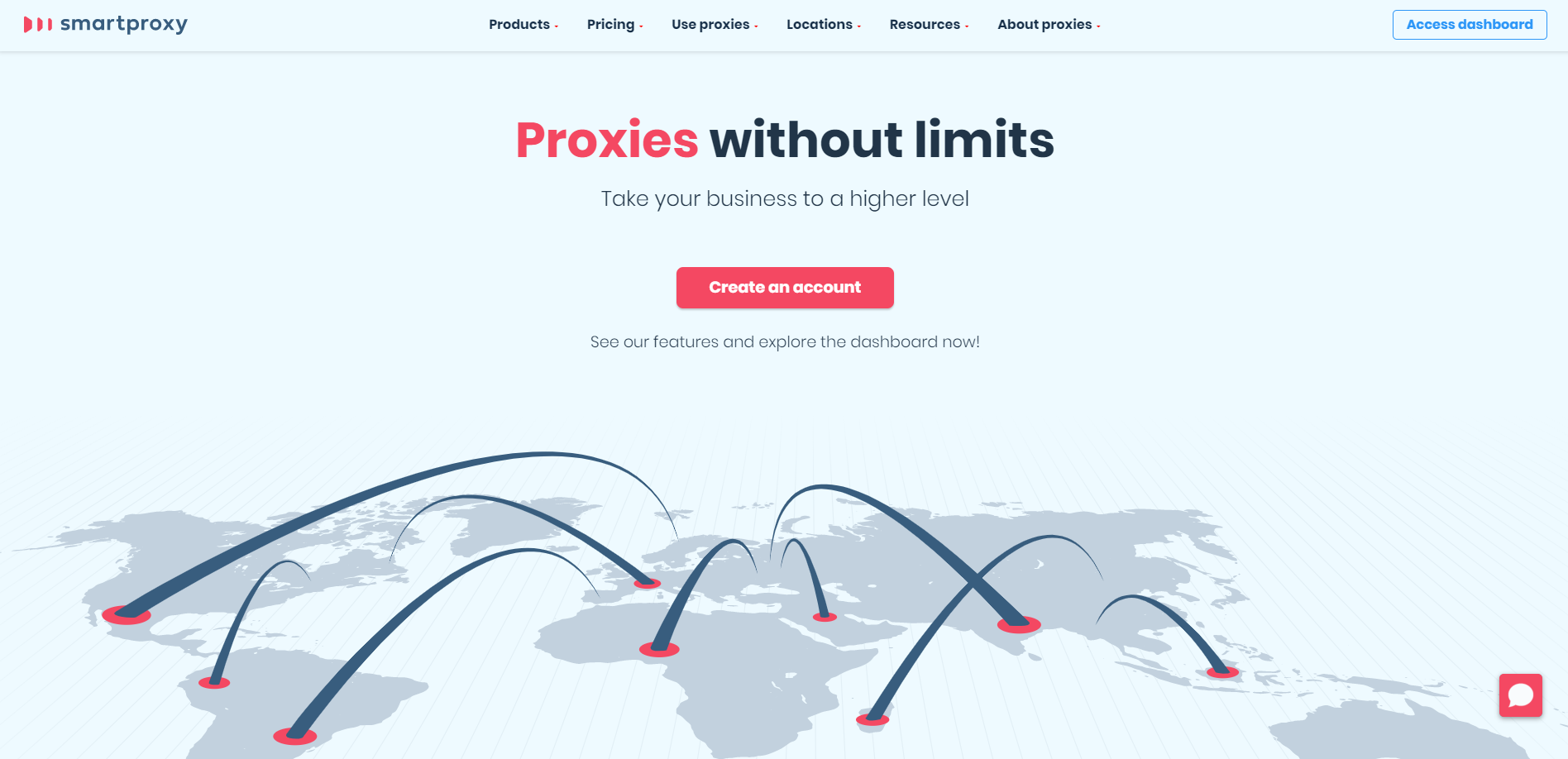 Smart Proxy service unfolds the restricted content from websites, youtube channels, and other online platforms. Although the functionality seems to be like a VPN, it overcomes the server limitations and censored content. Moreover, it acts as an interface between the user device and the network currently being used.
Just like other proxy servers, Smart Proxy comes at high prices ranging from $75- $600 per month. It is because the cost of each proxy - residential, private, etc. was based on the usage of bandwidth.

This network even allows the clients to access unlimited bandwidth at high speed, zero logs, and secure encryption mechanism. It cannot guarantee the change of IP address every time you log in but allows you to bypass the geo-locations and enjoy the services at high network speeds without errors.

To conclude, this is one of the best proxy servers available in the market. Also, the user reviews and ratings given on the company website are genuine and may differ according to the services. The only thing we did not like is the expensive nature, and also there are chances of data theft if you are of proxy network.

Pros

195+ geo-targeting locations.
3-days money-back guarantee.
24/7 customer support is available.
Unlimited IP connections and threads.
Featured as residential and business IP networks.
The smart Proxy dashboard is easy to understand and use.
Cons

Chances of data theft.
It comes at very high-prices.
Smart Proxy FAQs
1) Does a Smartproxy refer to?

Smart proxy is a beautiful residential network that allows users to gather website data using different IPs and geo-locations. The IP address of the current network changes for every 10-minutes depending on the request and priority.

2) What kind of protocols Smartproxy support?

The smart proxy provider is made available for both HTTP and HTTPS protocols.

3) On what platform Smartproxy works well?

Smart proxy is compatible with Google Chrome, Mozilla Firefox, Internet Explorer, Safari, foxy proxy, Android, and iPhone systems.

4) Is it right to integrate Smartproxy residential network with 3rd party software?

Yes, you can configure wisely with the automation bots especially when you run on dedicated servers. The list may include - AIO sneakers bot, EasyCop, Jarvee, Supreme bot, etc.
2. Storm Proxies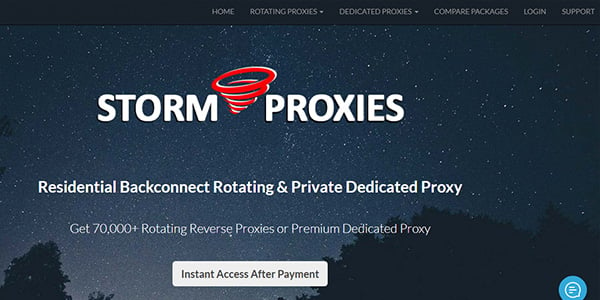 The very first one in the list of top proxy servers 2019 is Storm Proxies. This proxy service has come with bulk packages to view the websites, create social profiles, and perform SEO strategies.

Storm Proxies have come with unlimited bandwidth to match with the client's requirements and do not impose additional charges. It can be accessed from different locations as dedicated proxies, residential proxies, and back-connect proxy IPs.

The control panel embedded in this proxy is simple and easy to use. With the help of the control panel, you can access IP for rotating, change authentication mode and access the proxy profiles.

If you want to handle the things effectively, you need to install the proxy extensions from Mozilla Firefox and Google Chrome browsers. The IP address may vary for every 3-5minutes using the IP rotation techniques when you view the other websites content. Depending on the proxy requirement - the number of IP's, ports and connections, the pricing plans may differ.

Overall, the performance of Storm Proxies is fast and reliable. It does not offer a free trial version. While subscribing for monthly plans, check Storm Proxies coupon to get a discount. However, you can benefit from a 2-day money guarantee if you do not like the services.

Pros

Unlimited bandwidth.
Very simple and easy to use.
More than 70000 of IP addresses.
The 24*7 customer support team is available.
High performance and connectivity speed.
Money refund within 48-hours of subscription.
Dedicated proxies, ticketing, and social media proxies.
Cons

Limited geotargeting.
No free trial version.
Payment through Paypal and credit cards.
Storm Proxies FAQs
1) How does a storm proxies work?

Once you install the application/plugin on your system, you will get full access to handle the proxy using an internet connection. With the help of rotating IP switch, you can change the IP address for every 3-minutes from different locations.

2) Does storm proxies with a free trial option?

Nope. The manufacturer didn't mention any of the free trial plans. However, you will get a refund within 48-hours if you do not like or want to shift to other proxy services.

3) Is it possible to cancel the monthly subscription of the current plan?

Yes, You can cancel the subscription of the current plan if you are not satisfied with the services. You have to drop a mail and give valuable feedback to improve the proxy services.
3. Oxylabs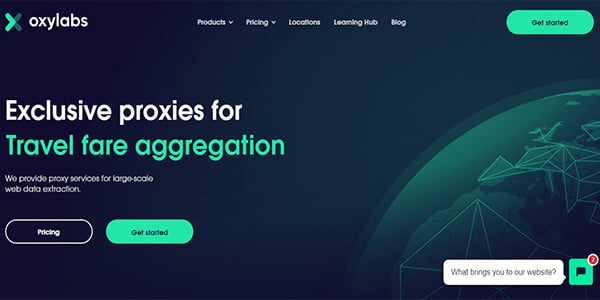 Oxylabs proxy provider is best for business practices. It gives full access to dedicated, residential proxies and monitors accordingly. For this reason, it has been the best choice in the industry over the years.
Compared to other popular brands, Oxylabs proxy provider has excellent reviews and ratings online. You can choose the appropriate plan and make the payment using a PayPal account.

When you have partnered with the Oxylabs services, a link will be given to the user for accessing and controlling the dashboard and proxies list. Further, it is also possible to mask the IP's from the current location.

Datacenter proxies use dedicated proxies for doing market research, brand protection, search engine, web crawling, etc. Whereas, residential proxies are using for generating ads and managing social media accounts.

You can configure Oxylabs proxy manually from any browser with a single click on the web-application. A 7-day free trial period is giving for the customers to be familiar with the proxy server and access all other features with minimal charges.

If you want to know "how to use proxy servers?" or the pricing plans, contact the support team which is available 24/7.

Pros

99% Uptime guarantee.
7-days of the free trial period.
Lean IP management tool.
24*7 chat support around the year.
Highly reliable and easily accessible.
IPV6 support for search engine data.
The best proxy server for web scraping.
In-house rotation and session control is available.
Cons
Expensive proxy server.
Should cover more regions.
Oxylabs FAQs
1) Can I change the Oxylabs proxy pricing plan at any time?

Of course yes, you can upgrade to another plan at any time. But, you should inform/contact the technical team for a change in advanced features and pricing plans. If you have any doubts, contact the support team which is available 24/7.

2) What do you mean by real-time crawler?

A real-time crawler is an API (Application Program Interface) which reads the websites data and other information to get indexed in search engine page results. As Oxylabs proxy focuses on SEO tactics, a real-time crawler is essential for the tech-geeks.

3) List out the protocols supported by Oxylabs proxy provider?

HTTP, HTTPS, and SOCKS protocols.

4) How much does it cost for unlimited bandwidth?

All the existing plans have limited bandwidth. It's up to an individual to choose the best plan that matches his/her online business requirements. If you think the bandwidth provided to you isn't, you can upgrade to another plan without any hassle.
4. GeoSurf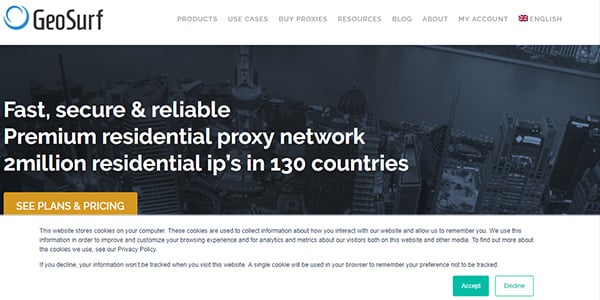 Number 3 in the list of 10 proxy providers is GeoSurf. GeoSurf understands precisely what the business needs and come up with the best solutions in the industry.

The working of GeoSurf Proxy is that its a gateway application that accesses the web from different IPs within a network. It accepts requests from different servers and responds accordingly.

One of the best things that it is easy to install from the browser extensions and won't occupy much space in your hard disk. It has come with plenty of resources where you won't be tangled with network connections, locations, and IP addresses.

Further, it uses P2P networks where you can seamlessly switch between one IP location to another. You will also be handling Ad verification, social listening, and search engine optimization tools.
This proxy server is compatible with Apple, windows systems and interfaced through java, .net, and PHP technologies. To add on, you can contact customer support via chat, email, phone calls and they will come up with the best possible solution.
The bottom line is that anyone who values their privacy must use this secured tool - GeoSurf proxy. It protects the data from being shared to unauthorized users and what most people love in this proxy servers are the privacy, speed, and quality.
Pros

Accessible in 130+ countries.
User-friendly GeoSurf proxy server.
Hide your IP address using filters.
Offers decent performance throughout the usage.
Advanced error handling and multithreading techniques.
Cons

Beginners may face difficulty.
Incompatible with few devices.
Not a budget-friendly proxy server.
GeoSurf Proxy FAQs
1) Does GeoSurf proxy come with browser extensions?

Yes, GeoSurf proxy is available as browser extensions - Google Chrome and Mozilla Firefox.

2) Can I use GeoSurf proxy on more than one device?

The GeoSurf proxy gives accessibility for the customers to use on multiple devices - smartphones, tablets, PCs, and laptops within the IP location. It charges based on the usage of bandwidth and not on the peripheral devices.

3) What protocols does GeoSurf proxy support?

It supports both the HTTP and HTTPS protocols.

4) How long can I use the same IP?

You can use the same IP (Internet Protocol)- address to know the competitor's data as long as the TTL (time To Leave) expires.
5. Luminati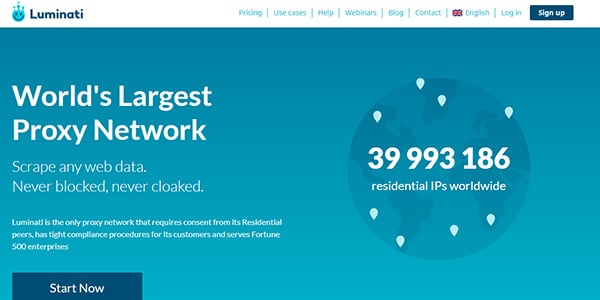 If you wish to choose the best proxy provider in the market, Luminati ranks top in the list. It offers 36million IP addresses in 200+ countries and got positive reviews from the users.

Most of the ad networks use Luminati proxy provider to view the statistics of audience visiting the web-pages. It even detects and rectifies the malware and thus increases the advertisement reach.

This proxy provider has the capabilities to test and analyze the websites from different parts of the world. Link tester tool renders the end URL and is applicable for both API and GUI (Graphical User Interface). It even accepts hundreds of requests and processes them at a time.

Above all, the monthly pricing plans vary according to the proxies you select - shared, private, residential, mobile IPs. You can also choose the desired bandwidth for the requirement of the project.

The main advantage of using the Luminati proxy server is that it speeds up the development time with the built-in scraping features and debugs quickly. It even helps to target the right audience for marketing the products and services without any disruptions.

Pros

99% of uptime.
Unlimited bandwidth facility.
Accessible over 200+ countries.
Largest proxy network in the world.
Supports both API and GUI network interface.
Cons

Features are not as expected.
Poor customer support services.
Luminati FAQs
1) How can you differentiate private proxies and data center?

Data centers come with bulk IPs at an affordable price, whereas the residential proxies are best to use for business practices. They have come with flexible options and unlimited connections for the convenience of the users.

2) What do you mean by IP allocation?

IP allocation has defined as allocating IP addresses for different regions. This methodology is applicable for mobile, residential and data-center IPs. For instance, if you wish to generate a new data center and selected 10 IPs for the requirement, then you are requesting the proxy to allocate 10 IPs for the specific location.

3) How to set up the Luminati IP network?

Firstly, go to the official Luminati website and signup with your details. Within a few minutes, you will get a confirmation mail to access the proxy tools efficiently. It's an individual's choice to decide between residential proxies and data center proxies.
6. HighProxies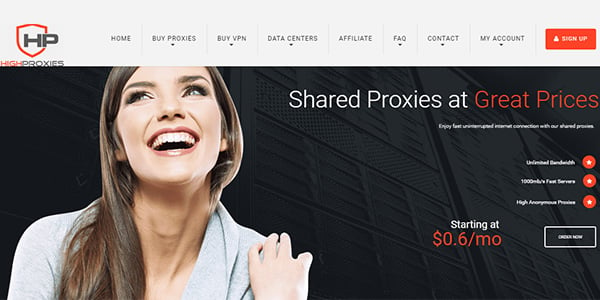 In recent years, most of the proxy providers come with customer satisfaction. One such product in the list is HighProxies provider. It is undoubtedly the best proxy provider in the world of e-market for fast connectivity, speed, and hassle-free functioning.

What makes it more special is the use of proxies in smartphones. To pair with Android or IOS devices, go to WI-Fi settings and then turn on the Wi-Fi. Now, you can add the IP address and also create a username, password for the secure connection. Once you have done with the procedure, start using the internet with proxy on mobiles.

They even come with a variety of pricing plans and packages as per the customer's requirements. You will be able to access the social media profiles, ads, and different IPs within the network.

It guarantees 99% uptime on servers and also shows the server status in real time. To make the users trust the service, Highproxies has introduced a 3-days money back policy. During this period, if the customer is not happy with the service, he/she can claim for the money refund within 3 working days. While paying the bill check High Proxies Promo Code to get a discount on your plan.

We have concluded HighProxies as the best-dedicated proxy services in 2019. Moreover, you will surely be satisfied with the top-notch performance and quality services they offer.

Pros

1000mbps of servers speed.
Affordable prices than VPN.
Highly secured proxy network.
Servers with 32GB of RAM.
Technical support through chat, email, and calls.
Available as google chrome and mozilla firefox extensions.
Cons

Beginners might face difficulty in handling the proxies.
HighProxies FAQs
1) How to use HighProxies on google chrome web browser?

The proxy settings for google chrome is the same as that of Firefox, windows, etc. Changing proxy settings affects the overall performance and internet speed. Given below are the simple steps you must follow to configure proxy in google chrome.

Go to the chrome menu and then click on settings. Now scroll down the toolbar to find the advanced settings. In that go to the network section and then change the proxy settings. A new pop-up window will blow out. Select LAN settings according to the proxy server requirements.

2) Does this HighProxies support on all browsers?

Nope. It works efficiently on browsers that incorporate HTTP and HTTPS protocols.

3) How to cancel the existing plan of HighProxies?

You can directly cancel the subscription plan from the control panel or submit a ticket to the technical team via email.

4) How long does it take to install the HighProxies provider?

It just takes a couple of minutes if your network speed is fast. If the system detects any malware or viruses, then it might take hours duration.
7. NetNut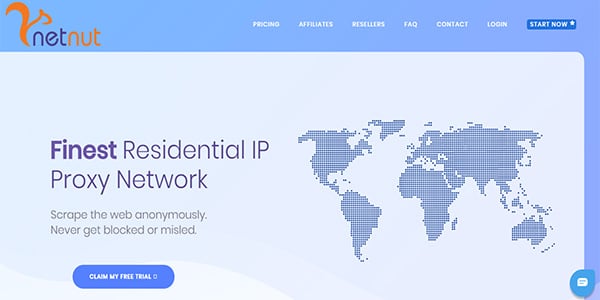 NetNut has evolved from scratch and is being the best in maintaining the standards. Though we have given number-7, it is good at delivering high-speed secured connection across the world of servers.

In contrast with the performance of Oxylabs, NetNut delays connection due to unknown errors. However, you don't have to worry about security. Another important thing is that other proxies use P2P networks. Whereas, NetNut works with hundreds of ISPs where the user doesn't need to be online to use the IP address.

The residential proxies deal with search engines and generate new IP to ensure optimal performance. Along with access to the dashboard, you will know real-time statistics of websites data - traffic, page sessions, bounce rate, etc.

A 7-day free trial is given for the users to get over the beautiful tools and habituate without any confusion. You can also monitor the traffic generated for websites (per month) and charged according to the bandwidth usage. Further, it helps to make Skype calls/chat if you need help from the technical team.

To recapitulate, the performance of NetNut proxy server is right and best for business professionals. The only thing we did not is that NetNut proxy is limited to few countries only and would be much appreciated if the services have extended.

Pros
7-days free trial is available.
Deals with all search engines.
Pre-verified Ip addresses and locations.
1ms latency from the targeted websites.
Built-in smart IP rotation management layer.
User-friendly dashboard with specific statistics.
Provides unique IP for each browsing session.
Cons

Few proxy server locations.
NetNut Proxy FAQs
1) Does NetNut proxy provider offer a monthly subscription?

All the plans available in NetNut proxy provider are monthly subscriptions only. If you want to use the high bandwidth to reach the business globally, upgrade to the best subscription plans available right now.

2) Why is NetNut proxy faster than other proxy servers?

NetNut proxy is one of the popular proxies in 2019 because it incorporates built-in smart IP rotation which provides IP in the desired location. Moreover, it is highly successful in the industry because of the countless session durations, architecture, and performance.
8. Buyproxies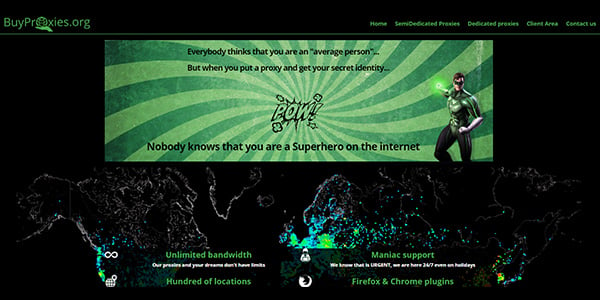 Are you looking for a budget-friendly proxy network? Then Buyproxies might be suitable for you. It was founded in 2011 and is offering quality services at affordable prices.

This product deals with several types of proxies - Dedicated, Ticketmaster, Residential, API, etc. The integration of API application with proxies allows the customers to handle them effortlessly. The dedicated proxies came at high-prices and recommended for workaholics.
You can change the IP address for every 30-days to secure your identity. If you do not like the services, it is possible to cancel the subscription at anytime you want.

It's an excellent option for professionals to meet SEO targets. The speed is unique and offers outstanding technical support throughout the usage. It has hundreds of location to reach the targeted audience with unlimited bandwidth.
On the whole, you will surely be impressed with the performance, speed, and services. It also works well with social tools like Facebook, Instagram, Twitter, and much more. The only thing we didn't like is that it's not suitable for beginners and also reselling is not possible.

Pros

API Integration.
The technical team is available 24/7.
Hundreds of proxy server locations.
Available as firefox and chrome plug-ins.
Focuses on providing dedicated proxies.
Dedicated and shared HTTP/HTTPS proxies.
Cons

Reselling is not possible.
Not suitable for newbies.
BuyProxies FAQs
1) What do you mean by private proxies?

A private proxy is a global server that runs between your system and the websites, blogs (or other forms of web content - images, videos). It helps to reach the targeted people by assigning multiple locations from a single site.

2) What are the pricing plans available for BuyProxy providers?

For 10 semi-dedicated proxies, it would cost around $10 and $40 for dedicated proxies (with 3-subnets) and 0 for dedicated shoe sites. If you are a beginner or experienced business person, choose the best proxy plan that matches your needs.
9. Blazing Proxies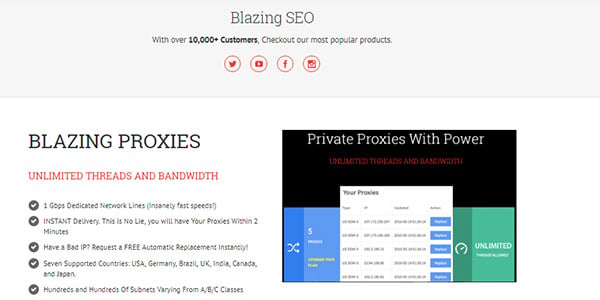 If you are an entrepreneur and need to expand the business online, then you should opt for Blazing proxies. The main reason for choosing this service is it controls the data usage, high-speed internet, and also saves the bandwidth.

The proxy runs at 1000mbps to cater multiple operations at one go. It has full control over the serves and delivers high-quality proxies without waiting for a long time.

The rotating proxies give access to a single IP address and multiple ports. You can perform manual configuration from browsers and proxy applications without the need for completing tasks from automation.

Further, the Blazing SEO team offers 24/7 live chat and email support for the users to clarify the doubts regarding proxy installation and usage.

It is possible to replace the IP address within 30-days depending on the client's request. The speed is quite good and might decrease if the distance between proxy servers is too long.

To conclude, BlazingProxies is one of the best companies that deliver quality services to customers. If you have newly started the business and don't know how to start, then it's recommended to go with BlazingProxies.

Pros

RAM and SSD drives.
10TB of free bandwidth per month.
1Gbps of dedicated network speed.
Able to set up the proxy server in 2minutes.
Supports HTTP, HTTPS, and SOCKS proxies.
Available in different sizes, configurations and pricing plans.
Cons
Blazing Proxies FAQs
1) How fast is your blazing proxy?
All the proxies featured in blazing proxy like residential, dedicated and mobiles are of speed 1Gbps. It helps to access the things quickly and make believe that you are operating from different locations within the same IP address (or different).
2) Where does the proxy server locations are available?
The blazing proxy server locations are available in the countries like - New Jersey, New York, San Francisco, Los Angeles, Dallas, Chicago, Atlanta, Miami, etc.

3) What ports does blazing proxy service use?

It uses port 3128 for authenticating the I and port 4444 for setting up the user-name and password and port 1080 for connecting the SOCKS protocol.
10. Microleaves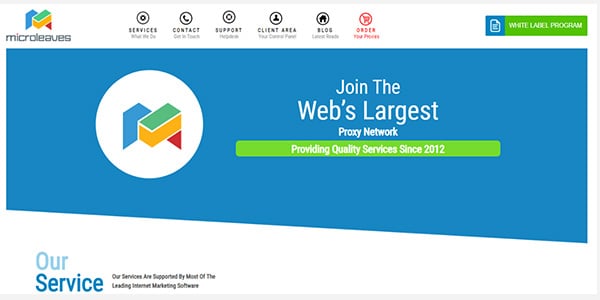 With the increase in demand for online businesses, private proxies have become the best for the product sellers, SEO professionals, and marketing team. Not every proxy server has come with similar features and pricing plans. To help you out, we have come with right proxy service like Micro leaves proxy server.

the application can be installed from the browser plugins and accessed at any time. The manufacturer claims that it is accessible in most of the countries and 3-days money back policy is given to build trust in customers.

Micro leaves dashboard is a bit easy to operate and assign IPs to different network ports. Likewise, you can also change the time and location to secure your identity. It also features dedicated proxies, shared proxies, and back-connect proxies to match with the client's requirements.

Wrapping up, this is the cheapest proxy provider in the list and offers a reliable performance using the unlimited bandwidth and proxy tools. The downside of Micro leaves Proxy provider is that the processing speed is a bit slower than other models. Moreover, it cannot handle the authorized websites/ applications, and the support services aren't that good.

Pros

99.99% uptime guarantee.
Very economical to buy the plans.
1Gbps of super speed network.
3-days of money back scheme.
Changes IP for every 3-minutes.
Advanced control panel and instant scaling.
Real broadband, digital cables and DSL IP's.
Cons

Poor support services.
Bit slower than other proxy networks.
Cannot access authorized websites.
Micro leaves FAQs
1)Does micro leaves proxy come with a money back guarantee?

Yes, the manufacturer offers 3days of money back scheme once you have finished the payment process. If you do not like the services, write to us about an issue - it can be related to bandwidth, network speed, performance, etc.

2) Can I get a free trial before purchasing the Micro leaves services?

No. Free-trial version of Micro leaves is not available for global customers.

3) Why my proxy is not working? How to fix it?

There might be plenty of reasons for not working on proxies like code errors, malware, bugs, etc. Here is the simple technique that helps to fix these errors - set up the authorized IP at the control panel and start using with few connections. If you are using a bot, delay the code with 3-5seconds and rotate the IPs frequently for optimal performance.

Conclusion…

When you surf the internet for best proxy providers in 2019, you may come across a bunch of products available in the market. Of all, we have given Storm Proxies as a top priority because of the easy handling nature, and unlimited bandwidth usage connects with 70000+ IPs and excellent customer support services. Moreover, these proxies are highly-secured and don't reveal your identity.

Hope the information provided in this article helps to choose the right one for the online business. If you have doubts regarding proxy servers or think we are missing out the popular brands, let us know in the comment section. We'll update the information as soon as possible.